Sell Digital Products Straight From Your Folders: Sellbox Turns Dropbox Into an Ecommerce Platform
See on Scoop.it - eBook Writing, Publishing & Marketing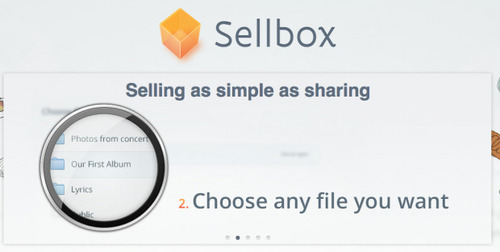 "Sellbox gives people a way to monetize the digital content in their Dropbox folder.
The company lets users set a price for their Dropbox files, share a link to those files with their social networks, and process payments through PayPal.
Founded in February 2012 and launched earlier this month, Sellbox is looking to become the go-to place for people looking to sell their online content.
The idea is simple – Sellbox turns Dropbox into an ecommerce platform. After connecting their Dropbox account, users select the files they want to sell, then set a file name and price.
Sellers can share their files on Twitter or Facebook or via a shortened link, and buyers can pay for the files via PayPal. When a file is sold, the seller gets 91 percent of the sale and Sellbox keeps the remaining nine percent."
(Source: Betakit.com)


More info: http://sellboxhq.com/
View Notes
thebigablog likes this
viqifrench posted this